WhatsApp was the most downloaded app in the world in the month of October. The messenger had almost 71 million installations in the period, a number that includes Android and iPhone (iOS) users. With 8% of downloads, Brazil was the second country that contributed the most to this result, behind only India, responsible for 39% of app installations.
TikTok came second in the list, having been downloaded more than 66 million times. The duo formed by India and Brazil retains their position in the application downloads charts with 41% and 7% of the installations, respectively. Facebook, Messenger, and Instagram complete the "top 5" of the report, made by the consulting firm Sensor Tower.
WhatsApp and TikTok are the most downloaded apps of the third quarter of 2019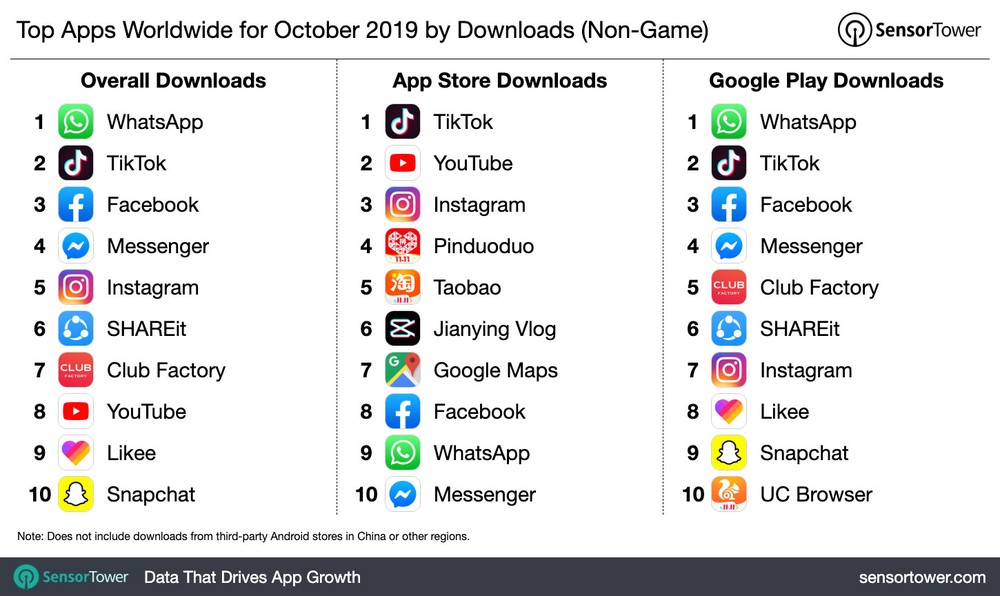 The top five apps downloaded globally in October from the Google Play Store and App Store were the same as in September. The only difference is in the positions occupied by Facebook and Messenger, which changed ranks when compared to the previous month.
The sixth place was occupied by SHAREit, a file-sharing service, followed by Club Factory, a platform that sells several products at factory prices. The "top 10" of most popular apps in the two main stores ended with YouTube, the video editor Likee and Snapchat.
Check out the top 10 most downloaded apps in general and on Google and Apple systems below.
Overview
WhatsApp
TikTok
Facebook
Messenger
Instagram
SHAREit
Club Factory
YouTube
Likee
Snapchat
Google Play Store
WhatsApp
TikTok
Facebook
Messenger
Club Factory
SHAREit
Instagram
Likee
Snapchat
UC Browser
TikTok
YouTube
Instagram
PinDuoDuo
Taobao
Jianying Vlog
Google Maps
Facebook
WhatsApp
Messenger
Via Sensor Tower
This post may contain affiliate links, which means that I may receive a commission if you make a purchase using these links. As an Amazon Associate, I earn from qualifying purchases.